Description
Specifications
High precision immobilization of the pelvis and abdomen
Various Orfit solutions are available for reproducible and precise pelvis immobilization.

Pelvicast
The Pelvicast High Precision Mask System for pelvis and abdomen immobilization consists of a unique combination of three carefully designed and engineered components:
Carbon fibre low density hardware.
Pelvicast thermoplastic masks.
Easy to insert and remove L-shaped profiles as interface between mask and base plate.
When integrated, they result in the most accurate, reproducible and comfortable patient immobilization and positioning system.
Pelvicast thermoplastic masks reduce the cranial-caudal and rotational movements of the patients. A specially designed leg separator can be inserted into the base plate after the patient has mounted the cushion, to fix a 6-points Pelvicast mask. This type of mask will increase the reproducibility and precision of the immobilization. An extensive range of Pelvicast masks are available to meet specific patient requirements and your immobilization preferences.

Orfit has developed a pelvis and abdomen frameless, multi-point masking system that offers the precision in patient immobilization needed with today's technology to perform IMRT, IGRT, SRS and SRT.
AIO 3.0 Leg Immobilization
The legs can be positioned using components of the All-In-One Solution 3.0.
By combining the AIO 3.0 long extension frame with the customizable foot support and the knee & leg immobilization cushions, it is possible to create a stable and reproducible set-up to position the patient's legs.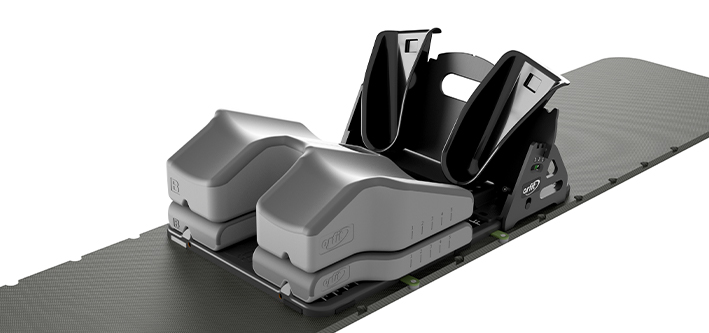 Individual Knee and Feet Support
Another option to position the legs is with the indexable knee and feet supports. These can be indexed to the treatment couch with a 2-pin indexing bar.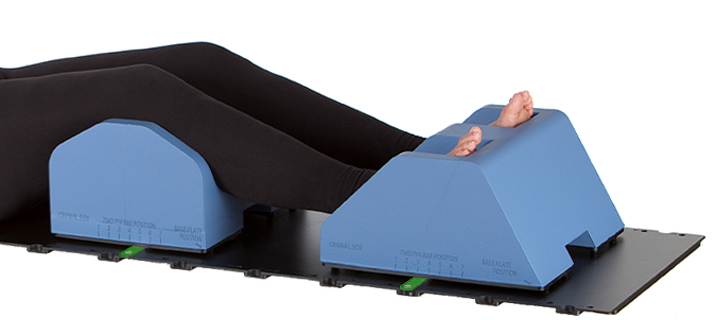 The following options and accessories are available for the Pelvic Solution:


 
 

32124

Pelvicast base plate – CFL

32124/MR

Pelvicast base plate – FGL – MR Safe

 

35710/32MA

6-points pelvis mask small – prone & supine

 

35711/32MA

6-points pelvis mask medium – prone & supine

35712/32MA

6-points pelvis mask large – prone & supine

 

35780/32MA

6-points pelvis mask large – supine

 

35788/32MA

4-points pelvis mask small – prone & supine

35787/32MA

4-points pelvis mask medium – prone & supine

 

35784/32MA

4-points pelvis mask large – prone & supine

 

38210

AIO 3.0 – Long extension frame for knee and foot support

38206

AIO 3.0 – Indexable foot support

 

38126

AIO 3.0 – Knee & leg immobilization cushion – Top

 

38127

AIO 3.0 – Knee & leg immobilization cushion – Wedge

38128

AIO 3.0 – Knee & leg immobilization cushion – Elevation

 

32317/4

Knee support – indexed

 

32317/5

Feet support – indexed